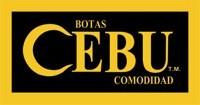 BOTIN BROWN BY CEBU COMFORT BOOTS.

---
Features
HIGH TECHNOLOGY DOUBLE DENSITY POLYURETHANE MAX SOLE- One of the best things about our Max sole is its combination of two types of polyurethane. While one section is designed to provide durability and is expertly located in the areas that suffer the most wear, the other section acts as a cushion for added comfort. Absorbs the impulses and shocks of machinery and other sources
AIRFLOW REMOVABLE INSOLE- Have stinky feet? No worries! Our removable insoles will do just fine in the washing machine and come out looking and smelling fresh. The design also allows for some airflow.
Its combination of LIGHTWEIGHT and RESISTANT build makes it ideal for work in Service, Landscaping, Plumbing, HVAC, Bus Drivers, Mechanics, Facility Workers, Roofers, Warehouse, and much more! Although water-resistant, these boots are NOT waterproof *Not designed for the most heavy-duty work like outside construction. Check out our Tractor boots for this work field.
Oil, Gas, and Acid Resistant; Goodyear Welt Construction. The external part of the shoe is made up of 100% GENUINE LEATHER.
Size: 6.0/10.5 and 11,12,13
D-Width Medium